Dinner on the table in 30 minutes — our secrets of a busy cook make it happen! Combine these familiar techniques to make weekday cooking a breeze.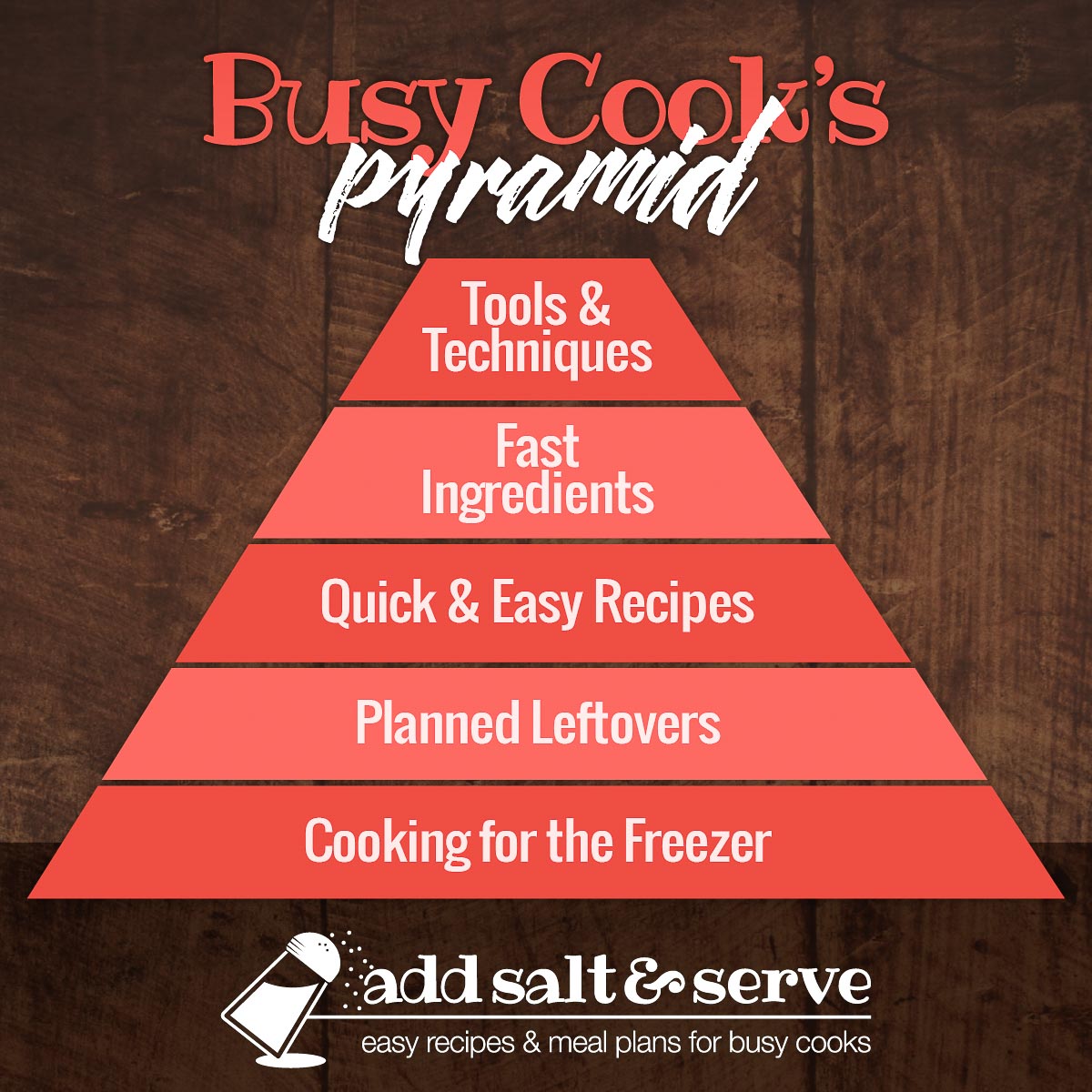 Jump to:
Imagine knowing that you have extra meals in the freezer and that you can put dinner on the table in less time than it takes for pizza delivery! It can happen when you make consistent use of the five levels of the Busy Cook's Pyramid.
Your family can easily get dinner ready when there are few last-minute preparations to put a nice, quick, well-balanced meal on the table, taking the burden off of the primary cook in the house. Enjoy the freedom that the Busy Cook's Pyramid can bring to your life!
❄️ Level 1: Freezer Cooking
Freezer cooking is the biggest time-saving technique for Busy Cooks, so it is the base of the pyramid. Experienced cooks know that dinner in the freezer is like money in the bank. Some cookbooks even refer to this technique as "investment cooking."
Two ways to make freezer cooking easy and painless:
Triple at least one recipe that freezes well each week. Once a week, find the time to make a triple amount of a recipe that freezes well. It doesn't take that much longer to make a double or triple amount of a dish, than a single amount. Freeze two of the three for future use, and either eat the third for dinner, or if it's a weekend and you have extra time, refrigerate it for a weeknight meal.If you add two main dish meals to your freezer each week, you can pull two different, previously made main dish meals from your freezer each week without depleting your stock.

Each weekend, focus on a different major ingredient, rotating through poultry, beef, meatless, seafood, etc. After 4 - 6 weeks of this weekly cooking to stock your freezer—as long as you continue to make one tripled recipe a week for freezing—you will always have a supply of ready-made main dishes on hand. Imagine having 30 - 40 prepared meals in your freezer at any one time. All it takes is about an hour a week!

Cook and freeze ingredients in bulk. Keeping cooked ground beef, cooked chicken, sautéed onions and peppers, prepared dry beans, and other ingredients in your freezer makes dinnertime prep fast and easy. You'll even have fewer dishes to clean!Each time you prepare a single pound of ground beef, you are taking not only the time to cook the meat but also the thawing and cleanup time. Doing 5-10 pounds at once and freezing the cooked meat saves you 10-15 minutes per pound! If you combine this with buying the ingredient at its best price, you are saving both time and money.

Bulk freezer cooking
🍗 Level 2: Planned Leftovers
Planned Leftovers are exactly what they sound like: you plan to have leftovers by intentionally cooking more now to save prep time later. Planned leftovers save you time and money because:
You are cooking more at one time, eliminating that prep and cleanup time another night.
You can plan the leftovers based on grocery store sales.
There are a couple of ways to implement planned leftovers:
Cook a big meal one day and use the leftovers as the basis for one or two additional meals later in the week (such as cooking a roast chicken and planning to use the leftover chopped chicken in a stir fry, salad, or casserole).
Cook a single ingredient in bulk to stock your freezer and use the cooked ingredients another week (this is where planned leftovers crossover with Freezer Cooking).This is a great way to save money when you find chicken or beef on sale—plan to cook grilled chicken in bulk and eat it for dinner and freeze the extra, or cook 5-10 lbs. of ground beef when it is on sale. You can have tacos or something easy for dinner and freeze the remaining cooked beef for later.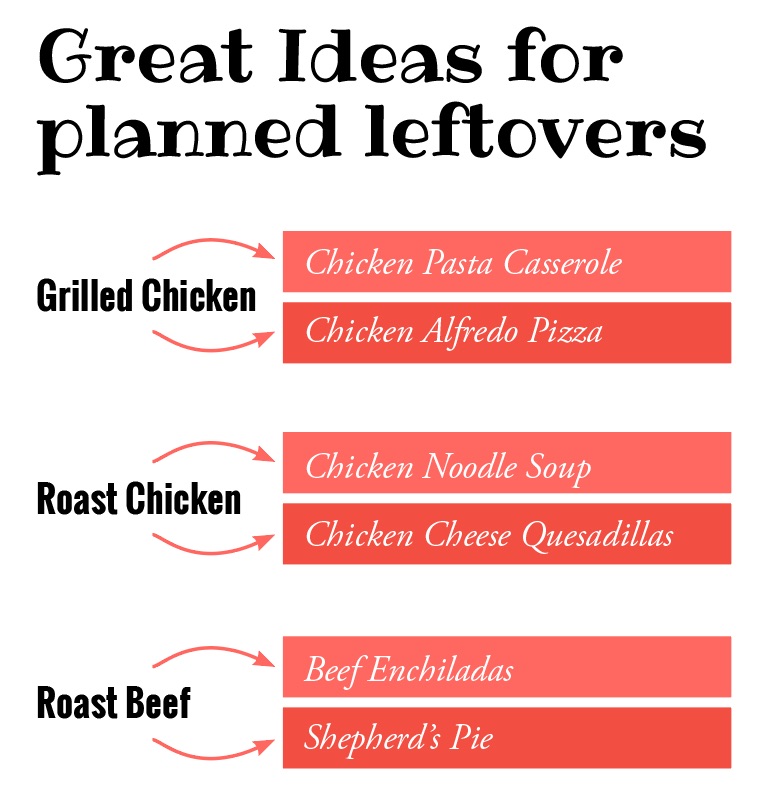 Incorporating planned leftovers can look like this:
The possibilities are endless and once you are in the habit of planning this way, it becomes second-nature.
Have some leftover chicken or roast beef? Give it a try now with one of the recipes below.
⏲️ Level 3: Quick & Easy Recipes
The mainstay of a busy cook's repertoire is a collection of quick and easy recipes for dishes that practically make themselves.
Quick & easy recipes:
are easily prepared
use quick-cooking ingredients
use minimum equipment
A good practice is to have 4-5 of these recipes in rotation and keep the ingredients on hand at all times, which is an effective way to prevent eating out when you are running late or have an especially busy afternoon.
🥫 Level 4: Cooking with Fast Ingredients
There are certain fast ingredients that are a busy cook's best friends and should always be on hand in your cupboard, freezer, or refrigerator for quick meals. If you make sure that your kitchen is stocked with these items at all times, your mealtime prep will be quicker and easier.
These staples have several advantages in common:
They are basic, but very versatile, so they can be dressed up or down.
They are popular with young and old alike.
They generally tend to be inexpensive. Most important, they are quick and easy to prepare.
For me, these ingredients include:
chicken, beef, and vegetable broth
rice
various kinds of pasta
canned / frozen meat and vegetables
several varieties of cheese, but always cheddar, mozzarella, and Swiss (shredded cheese freezes well)
cream soups
frozen hash browns
frozen burritos
frozen ravioli
beef kielbasa
Bulk prepared ingredients can bring dinner together faster as well:
frozen cooked chicken
frozen cooked ground beef
frozen sautéed onions & peppers
With items like these on hand I can put together a pot of soup or a casserole that will go from pantry/freezer to table in 20-30 minutes.
Recipes using fast ingredients
More recipes using fast ingredients →
🔪 Level 5: Tools & Techniques
The top level of the Busy Cook's Pyramid is the tools and techniques that work for you.
Here are some of my favorite tools (all links are affiliate links):
Microwave - a must-have for defrosting all those prepared ingredients and meals from the freezer
Slow Cooker - my favorite and the tool I use appliance I use most often
Pizza Pizzazz - this seems strange and random, but we love this little appliance and use it multiple times a day for just about everything
Grill - good tool for quick meals but also for preparing ingredients in bulk for the freezer like grilled chicken or vegetables
8 in 1 Grill Station - this nifty space-saving appliance from Bella is a griddle in addition to making paninis, quesadillas, waffles, omelets, and more
All in One Stand Mixer - whether you like Bosch or KitchenAid, an all in one mixer saves counter space and performs tasks usually done by blenders, mixers, food processors, pasta makers, and even meat grinders
Instant Pot - these appliances for quick cooking are helpful for speeding things up when you don't have hours for cooking
Air Fryer - while air fryers don't necessarily save time, they are a great alternative to turning on the oven or heating up a hot oil fryer
Small Tools - I love my garlic press, micro-plane grater, hand juicer, vegetable peeler, and Vidalia Chop Wizard (for way more than just onions!), and they speed up my prep time at every meal
Ultimately, the tools that work for you are the ones you should have handy. Minimizing the number of appliances on your counter and the amount of stuff in your drawers reduces clutter and stress.
Recipes for my favorite tool: the crockpot
More crockpot recipes →
Made it all the way to the end? I'm impressed—that's a lot of reading on a long page! Here's a sample meal plan that puts it all together in a way that is easily implemented: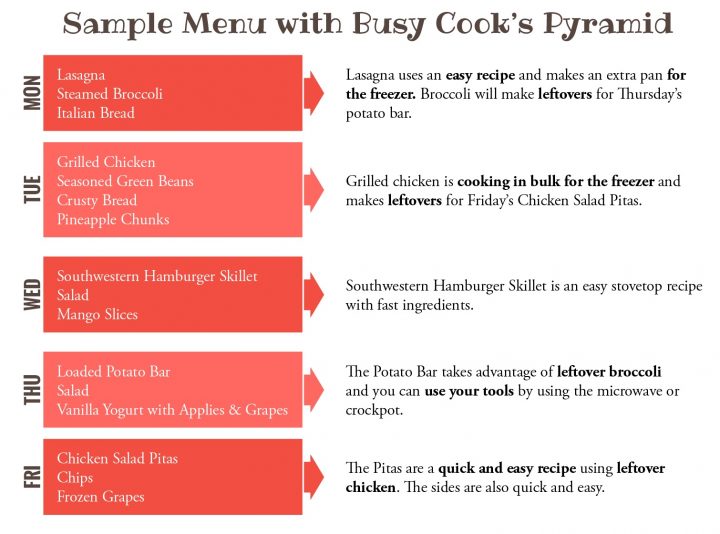 * Adapted from Secrets of a Busy Cook by Lynn Nelson, used by permission