Chicken Plan by Kim Tilley
Here is the first plan I wrote, out of necessity! I couldn't figure out how to deal with so many different parts of the chickens I was doing unless I had everything written down and the recipes gathered together.
My "Chicken Plan"
(I broke it down to 6 at a time)
Out of 18 whole chickens, I used:
6 whole roasted chickens: 4 Roast Sticky Chicken, 2 Rosemary Lemon Chicken
With the 12 other chickens:
cut breasts for Chicken Strips, Fajitas, and Forbidden City Chicken
cut legs and thighs for Simmering Chinese Chicken
cut wings for Teriyaki Chicken wings and Hot wings
save backs for All Purpose Chicken
save breastbones (after deboning breasts) for chicken soup
save giblets for who knows what!
My Strategy - When dealing with meats that have different parts, you need to think about how you will use each to get the maximum amount of food for your dollar.
Here is how I handled chicken (the same approach can be used for turkey and many of these recipes will work for turkey):
My Strategy
First, I marinated 4 Roast Sticky chickens and put them back in the fridge, stuck two Rosemary Lemon Chickens with potatoes and green beans in the oven for three hours. Then I prepared all of the other marinades and mixes in advance (the recipes follow) before cutting up chicken. My five year old enjoyed helping with this part. I saved the messy stuff - the cutting until after my kids were asleep and dh was and could answer the phone. I prepared the work space the best I could, making sure all of the knives were really sharp, had lots of Ziploc bags and bowls on hand, and my "chicken plan" in front of me and turned up the rock 'n roll! Yeah!
I put 6 chickens at a time in my sink, then opened all the wrappers and used an "assembly-line approach." I washed the first one, scooped out the giblets into a nearby bowl, cut the wings off and put in a wing bowl, cut the whole legs off (easier that way) and put in the leg bowl, and then cut off the back. I put the backs in a bowl, and the breasts in another. With 12 chickens, this didn't take but a half hour. On my second "cutting" I took all of the legs and cut between the drum and thigh and put them back in packages of 8 to a Ziploc, counted wings and put them in two Ziplocs, and put the chicken backs in Ziplocs. I also put giblets in Ziplocs. The giblets and backs went right to the freezer. At this point I felt like falling over, but the smell of a bargain (and all of those chickens!) kept me going.
I poured the marinades for "Simmering Chinese Chicken," "Teriyaki Wings" and "Hot Wings," then froze all of them. By this time, I was late for chat! Oh no! So I cleaned eveything up, reserving the chicken breasts for the next night. I disinfected everything too, which took a while!
The next night, I suited up to do battle again! Donning my rubber gloves and sharpening my knives, I prepared for the biggest pain, deboning all of the chicken breasts! I cut them from the bone on the first pass then cut them all into strips. I put the breast bones into a soup pot with water, some garlic powder, onion powder and seasoning salt. The broth was excellent and I got about two cups of additional white meat! I prepared the Oven Fried Chicken Strips and Fajitas, saving the rest of the strips for the next night.
The next night was pretty easy. I prepared all of the Deep Fried Chicken Strips and some chicken noodle soup which I need today because we are all sick! It took three or four days, but I found that if you do one motion repeatedly, you get really good at it and kick some serious chicken butt! I felt like "Jackie Chan" in the kitchen! I just followed the butcher cuts I see in the store. By mass producing, I saved money and time (I used rubber gloves to save my hands too!)
Here are the meals I got out of my 18 chickens:
4 Roasted Sticky Chickens with potatoes
2 Rosemary Lemon Chickens with potatoes and green beans
2 Simmering Chinese Chicken
4 bags of chicken legs/thighs for Shake and Bake chicken
1 Teriyaki Wings
1 Hot Wings
2 Forbidden City Chicken
2 Fajitas
1 gallon bag of Oven Fried Chicken strips (cooked)
2 gallon bags of Deep Fried Chicken Strips (raw)
2 gallon bags of chicken backs for All purpose Chicken
1 gallon bag of giblets (ideas wanted!)
1 big pot of chicken Noodle Soup (from breast bones)
more stock and soup from leftover whole roasted chickens after they are eaten
I only spent about 36 bucks! This is a really economical way to do chicken, and I think with practice, it won't be so daunting (remember, we all had a first oamc! THAT seemed daunting too!) Do you think I am crazy yet? I am just preparing for gardening season, when I will want to be outdoors rather than cooking.
Here's how I would've handled 18 more if I had the room:
freeze 6 whole
cut up 6 and freeze by type of piece: breasts, legs/thighs, wings, etc.
cut up the rest and freeze each as cut up chicken packs (each having two wings, drums, thighs and breasts)
The only reason I did them in sixes was because that was the store limit and a good size to work with. Nothing strange going on here, folks! No satanic chickens here! I kept going back for the chicken and people started to recognize me. They kept saying "Back again?" I thought about going undercover but the baby and the five year old would give me away. Oh well, I guess I'll have to save the "Mission Impossible" theme for the next adventure!
Here are the recipes:
Roast Sticky Chicken
Adapted from busycooks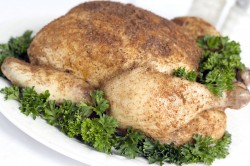 4 teaspoons salt
2 teaspoons paprika
1 teaspoon cayenne pepper
1 teaspoon onion powder
1 teaspoon thyme
1 teaspoon white pepper
½ teaspoons garlic powder
½ teaspoons black pepper
1 large roasting chicken - as big as you can find
1 cup chopped onion
Mix together all spices in a small bowl. Remove giblets from chicken and clean the cavity well. Pat the chicken dry and rub the spice mixture in and on the entire chicken (including inside the cavity). Cover the chicken in a large container and refrigerate overnight.
When ready to roast, stuff the inside of the chicken with the chopped onion. Place stuffed chicken in a crockpot; cook on low for 5 hours or until chicken is done (chicken ready when an internal thermometer reads 165°F). Let chicken rest about 10 minutes and then carve.
Notes: This recipe is a great way to roast a large chicken for planned leftovers. It is reminiscent of those rotisserie-style chickens that are so popular now, and it is very easy to make. The meat comes out very moist and flavorful, so it is as good leftover as freshly cooked. Please try it and you will never roast chicken any other way. You need to start this the night before serving.
Update: This one freezes well; take care because the chicken does start to fall apart, especially the legs and wings. It still tastes fantastic! I froze these in Ziplocs, next time I may freeze in a box type container so it doesn't fall apart. The leftovers were great as soup and chicken salad.
Rosemary Lemon Chicken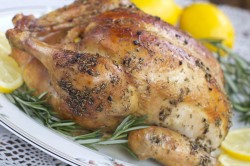 1 5-6 pound roasting chicken
2 large lemons
1 bunch fresh rosemary (or use dried leaves)
olive oil
salt and pepper to taste
2 pounds small red potatoes
2 packages 9 oz frozen green beans, thawed and drained (I use fresh, sometimes canned)
Prep time: start 3 hours before you want to serve this.
Preheat oven to 350°F. Remove giblets from chicken and clean the cavity well. Pat the chicken dry. Working with chicken breast side up, fold wings toward neck, then fold up and under back of chicken so they stay in place.
Cut lemon in half, and squeeze enough juice from half of a lemon to make one tablespoon. Cut the remaining lemons into large chunks and place lemon chunks and 2 sprigs of fresh rosemary (or 1 teaspoon dried) inside the body cavity of the chicken. Tie legs and tail together with string. Place chicken breast side up in a large open roasting pan on a rack. (I just put it in a bigger, metal roasting pan! Metal seems to work better than glass, more juices.)
In a small bowl combine 2 tablespoon fresh minced rosemary (or 2 teaspoons dried), 2 tablespoon olive oil, 1 teaspoon salt, and ¼ teaspoons pepper. Halve potatoes and place around rack in roasting pan. Drizzle the potatoes and chicken with the 1 tablespoon lemon juice and 3 tablespoon olive oil and sprinkle with ¾ teaspoons salt and ¾ teaspoons pepper. Rub into skin of chicken and toss potatoes to coat well.
Roast chicken for 1 hour and 15 minutes in a 350° oven, basting chicken and potatoes occasionally. When chicken is golden brown, cover with a tent of foil to prevent further browning. Add green beans to roasting pan and toss with potatoes. Roast for another hour, basting chicken and veggies occasionally, or until meat thermometer reads at least 175°F. (I find the times to be pretty reliable; add 15 more minutes if you want to be extra sure). Remove foil during last few minutes of roasting and brush chicken again with pan drippings for attractive sheen (this chicken is GORGEOUS!). Place chicken on a large serving platter and remove string. Arrange potatoes and green beans around chicken and garnish with rosemary.
Notes: This chicken is beautiful, easy, and also easy to cook in quantity. If you are going to make one for a special dinner, why not make a bunch? I have not frozen and then thawed this one yet, but I'm guessing it will still be good. Don't know how the potatoes will turn out - we'll see!
Update: they were fine!
Simmering Chinese Chicken
Adapted from the Online CookBook by Dawn Wise
1 (4 lb) chicken, cut apart (I used thighs and drums)
1 tbsp. oil
½ cup water
⅓ cup soy sauce
⅓ cup brown sugar
1 tbsp. catsup
¼ cup sherry, apple juice or orange juice
½ to ¾ teaspoons crushed red pepper
2 cloves garlic, minced
1 green onion, sliced
2 tbsp. cornstarch
1 tbsp. water
2 teaspoons toasted sesame seeds
Combine the oil, water, soy sauce, sugar, catsup, sherry or juice, red peppers, garlic, and onions in a freezer bag that will accommodate the chicken. Add to the chicken; seal the bag and freeze.
To prepare, thaw overnight in the refrigerator. When thawed, place the chicken in a 3 qt. casserole and cover. Bake at 350°F for 1 hour, stirring once, then remove chicken to a platter and place juices in a saucepan. Blend cornstarch and water and add to the remaining sauce. Cook sauce over medium high heat, stirring constantly, for 1 to 2 minutes or until thickened.
(OR: Microwave on high for 5 minutes then on medium high for 15 minutes. Turn the chicken pieces and return to the microwave for another 15 to 20 minutes on medium high. Remove the chicken to a platter. Blend cornstarch and water and add to the remaining sauce. Microwave on high for 1 to 2 minutes and stir. )
Sprinkle chicken with sesame seeds and serve the sauce on the side. Serve with hot cooked rice and steamed broccoli.
Kim's note: The marinade smelled INCREDIBLE when I made it, I think this one will be a winner.
Update: This was excellent! We decided that next time we make it we would debone the chicken and then throw it in. The marinade would be awesome in stir fries too. I cooked the chicken on a bed of uncooked rice in the oven and covered with foil for an hour. It was wonderful, the rice absorbed the sauce, which was too spicy for the kids but great for me and dh. Mmmmmmm
Teriyaki Chicken Wings
Also adapted from the Online CookBook by Dawn Wise
1 bag of frozen chicken wings (I did 12 wings from my chickens)
1 cup of soy sauce
¾ cup brown sugar
1 tbsp. vinegar
1 teaspoon garlic salt
1 teaspoon ginger
Divide chicken wings between 2 or 3 one-gallon bags. In a bowl, combine remaining ingredients and mix well. Divide sauce evenly between the bags of chicken wings; seal and freeze.
To prepare chicken wings, thaw overnight in the refrigerator. Place contents of bag in a large baking pan along and bake at 400°F for 30 minutes, turning once.
Note: I add the chicken wings from the chickens which I have cut up to this dish.
Homemade Shake and Bake
Adapted from the Tightwad Gazette
4 cups flour
4 cups ground crackers (I get a box of saltines at Aldi's for 39 cents) or cracker meal
4 tablespoon salt
2 tablespoon sugar
2 teaspoons garlic powder
2 teaspoons onion powder
3 tablespoon paprika
¼ cup vegetable oil
Mix well and store indefinitely in the refrigerator in a covered container (I use an old ice cream bucket or coffee can). You can adjust the spices according to taste (ie. Italian seasonings, Cajun, Mexican, Asian, etc.). Crushed french fried onions make a delicious addition.
To cook: Dip meat in your choice of wet ingredients (egg, buttermilk, milk, salad dressing) then dip in the shake and bake. Bake at 350°F for the appropriate length of time for the meat you are preparing. This coating can be used with fish, chicken, pork, or vegetables.
Update: The oven fried chicken strips froze very well. We cooked ours first and then froze so we could microwave them. They were not as crunchy, but still delicious. They could also be frozen without cooking and then baked after freezing.
Kim's Hot Wings
chicken wings
mild pepper sauce like Red Devil or Frank's
Put raw wings in bags, put a few teaspoons of pepper sauce in and freeze.
Bake at 350°F for 30 minutes or until thoroughly cooked. This was an improvised recipe! Don't know how it will turn out, you may want to dilute the pepper sauce with ketchup or barbecue sauce.
Forbidden City Chicken
This one was given to me by my mom recently; I have never tried it but she says it is easy and delicious. It is from a cookbook featuring the best of Junior League cookbooks. Mom is a romance writer and has little time for making dinner, but is a great cook when she finds time, so if she says it is good, I know it is good! (Will let you know how it turns out!)
¾ cup soy sauce
2 tablespoons butter, melted
1 tablespoon curry powder
1 teaspoon ground cinnamon
1 teaspoon ground ginger
1 garlic clove, crushed
2 dashes Tabasco sauce
2 small broiler chickens, split (I use 2 whole boneless skinless breasts)
sesame seeds
Arrange chicken halves skin side up in a baking pan. Combine all other ingredients except sesame seeds and spread the mixture over the chicken and freeze.
To Prepare: Thaw overnight in the refrigerator. Preheat oven to 325°F. Sprinkle sesame seeds over the chicken and bake uncovered for one hour until chicken is golden. (I would say less time for chicken breasts, may have to cover loosely to avoid drying out. This sounds like it would be good grilled too!)
Update: We tried this and liked it very much, but the sauce is a bit strong if you let it marinate too long. You can reduce the sauce, dilute or freeze it separately and marinate for 5-10 minutes right before cooking.
Fajitas
Adapted from the Online CookBook by Dawn Wise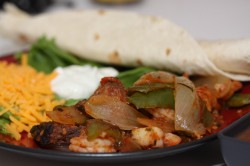 5 tbsp. oil, divided
¼ cup lime juice
½ teaspoons cumin
⅛ teaspoons cayenne
1 lb boneless and skinless chicken breast, cut into thin strips, 1 lb. shrimp, and/or 1 lb flank steak, cut diagonally across the grain, into thin strips (any combination of the three)
1 large red pepper, cut into thin strips
1 large yellow pepper, cut into thin strips
1 large green pepper, cut into thin strips
1 onion, sliced thin or 1 clove garlic, minced
¼ teaspoons pepper
Flour tortillas
Shredded cheese
Sour cream
Guacamole
Combine 2 tbsp. oil, lime juice, cumin and cayenne with the meat in a freezer bag. Mix thoroughly and seal. Place the peppers, onions, and garlic in a second freezer bag. Freeze both bags.
To prepare, thaw both the marinated meat and the vegetables. In a large skillet, heat 1 tbsp. oil until very hot. Add the meat with marinade and stir-fry over high heat until the meat is cooked. Remove the meat from the skillet and set aside. Add the remaining 2 tbsp. oil to the skillet and heat until very hot. Add the vegetables to the oil and stir-fry until tender-crisp (3 to 5 minutes). Return the meat to the skillet and heat through. Serve with warm tortillas, cheese, sour cream, guacamole, and other condiments of your choice.
Kim's note: I get a multicolored bell pepper 4 pack at Aldi for 1.19. I get several at a time, chop them and freeze each according to color, that way, I always have enough colorful peppers at a very cheap price!
Update: These were excellent! I will use a little less lime juice next time and less bell peppers.
Skewered Chicken
Here is another great recipe from my mom. I didn't have enough chicken to make this one, but it is so easy, it hardly seems worth the effort to fix ahead and freeze. This could be a "Quick and Easy" entree, when you want something fresh!
1 pound or more boneless skinless chicken breasts
soy sauce
bamboo/wooden skewers
Cut chicken into long strips and marinate for 15 minutes in soy sauce.
Put chicken strips on skewers, piercing in several places so they will stay on well (like sewing it on!)
Grill it! Great with grilled veggies and corn on the cob, or with an oriental style dinner, great for summertime!
Kim's Oven Fried Chicken Strips
boneless skinless chicken, cut into strips
buttermilk
Soak cut up chicken in buttermilk for 15 minutes or longer (can be overnight if you like). Dip each strip into shake and bake, coating well. Bake at 350°F for 30 minutes or until cooked through. Freeze on a cookie sheet, then put into Ziploc when frozen.
To serve, use directly from freezer. You can microwave these (not crispy but good) or reheat in an oven. Very convenient!
Kim's Deep Fried Chicken Strips
This is not a low fat recipe! We do this one for special occasions. If you still want the taste and less fat (or want to stretch these farther), put them in a salad like the restaurants do! MMMM
1 pound boneless skinless chicken, cut into strips/pieces
1 cup of buttermilk
2 cups of flour
1 tablespoon salt
1 teaspoon pepper
other seasonings of your choice
oil for deep frying
Soak chicken in buttermilk for 15 minutes or longer (use watered-down sour cream if you don't have buttermilk - just water down to buttermilk consistency). Mix together flour, salt pepper and seasonings of your choice (I add red pepper for spicy ones). Dip soaked chicken in flour mixture, coating well. To freeze, put on cookie sheet and place in freezer. When frozen, put into Ziploc.
Deep fry in hot oil until golden. The best chicken strips we've ever had, and the cheapest too! (messy though!)
Update: This recipe has become a favorite in our house. I now only do the fried chicken strips this way. It is far less messy and they come out great. The secret is to get the oil REALLY hot. We make extras for fried chicken salad, which is sliced up chicken strips on a bed of lettuces and tomatoes, topped with some insanity sauce (shown below). It's a lot like Steak and Shake's fried chicken salad.
Kim's Insanity Sauce
I serve this with my chicken strips. I also use it in place of mayo in chicken or tuna salad, and as a dip for chips or sauce for pitas and burritos.
1 cup of ranch dressing (we get the gallon size at Sam's)
one or two drops (yes, DROPS) of "Dave's Insanity Sauce," an explosively hot sauce (I found it at Kitchens store in the mall, the web site is called Dave's Gourmet)
Mix ingredients well. If the sauce is at all slightly pink, it will probably blow your mouth off! The pepper sauce is advertised as being "the hottest sauce in the world" and let me tell you, it is one of the hottest I've tried, but excellent if mixed with a lot of a "cooling" agent like sour cream, yogurt or ranch. I keep a container mixed up in the fridge at all times. It is truly wonderful and our friends love it too (we entertain a lot!)
By the way, my husband's name is Dave and I KNOW he is insane! We tease him a lot about the sauce!
Kim's Fried Chicken Salad
I make this with leftovers of my made chicken strips. We eat those one night, cook extra and make the salads during the week, this is one of our favorites! Inspired by Steak and Shake, but now after a taste comparison, it is better!
Per person (big portions) you will need:
2-3 fried chicken strips
2 cups lettuce (use a combination,romaine and spinach are good, don't use iceberg, yuck!)
¼ cup chopped tomatoes
additional salad topping: shredded carrot, alfalfa sprouts, sliced onion,
steamed veggies, whatever you like
insanity sauce for the dressing
Assemble by putting lettuces on plate, followed by tomatoes and optional other toppings. Top with cut up fried chicken strips (I cut them pretty small- bite size) and top with dressing. Yummy!
All Purpose Crockpot Chicken & Broth
Adapted from the Busy cooks website
1 onion, sliced
1 carrot, sliced
1 celery rib, sliced
1 large Chicken, 5 lbs or more
½ c chicken broth or water
Place sliced vegetables in the bottom of the crockpot. Place cleaned chicken on top, neck up. Season as desired. Pour liquid over chicken. Cover and cook on low 8 or 9 hours. Remove chicken from pot and cool. Meanwhile, strain stock and chill until fat rises to the top and hardens. Remove fat, leaving the thickened broth. This stock is double strength, so mix with equal parts water for use.
Remove chicken from bones and cut into pieces sized appropriately for your recipe. Return the bones and skin to the crockpot and cover with water. Cook on low overnight and repeat process to strain and remove fat from broth. Freeze broth.
Notes: This is not really a main dish, but a painless way to obtain cooked chicken for salads, casseroles, etc. An added bonus is the several cups of double strength chicken broth. Juicy, tender, flavorful chicken and a very rich broth for very little of your time.
Kim's note: I have been using chicken backs for this recipe, seems fine. Why not get every penny out of those birds?!
Well, I hope I haven't bored you all to tears or scared you off! Happy cooking!
Originally published by Kim Tilley, a tightwad at heart. Kim is a wife, a mother of three active boys and the founding editor of Frugal-Moms.com. Frugal by force and later by choice, Kim cut her income by 60% to stay at with her children and discovered that anyone can live better for less. Her work has appeared in print publications such as The Tightwad Gazette. In her free time, she entertains herself by chasing kids and finding ways to create something from nothing!
© 2002-2006 Fractured Frugal Friends (F3). All Rights Reserved. Used by permission. Edited and revised by Add Salt & Serve.