Jump to:
About Add Salt & Serve
With today's busy lifestyles, putting a home-cooked dinner on the table each evening has become more of a challenge than ever. Mary Ann Kelley, who has 15 years of experience publishing meal plans and easy recipes for busy cooks, creates the meal plans at Add Salt & Serve (formerly Menus4Moms), a website under the corporate umbrella of Kelley Media, Ltd. Born of Mary Ann's busy lifestyle as a work at home mom, Add Salt & Serve is the result of years of refining cooking and meal planning techniques to help today's busy cooks save time and money.
While many sites provide meal plans, Add Salt & Serve offers intentionally crafted meal plans based on an entirely different way of thinking about cooking. The menus are based on the Secrets of a Busy Cook and help families take the stress out of making dinner at home. The Meal Plan Primer and the Busy Cook's Pyramid (the visualization of the Secrets of a Busy Cook) offer detailed explanations of how Add Salt & Serve helps families regain control of mealtime. As Menus4Moms and now Add Salt & Serve, we have been helping busy cooks enjoy stress-free family dinners since 2005.
Add Salt & Serve Free Printable Planner
The Add Salt & Serve Printable Planner is a comprehensive organizer for appointments and family meal planning. It is completely free for personal use, and includes weekly "to do" and menu planner pages as well as monthly and yearly calendar pages. Get it here »
Busy Cook's Pyramid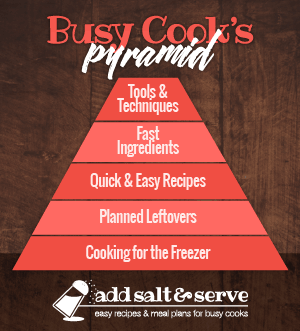 30 minutes is an ideal time limit for weeknight meal preparation, and using the secrets of a busy cook as shown in the Busy Cook's Pyramid is how you can accomplish this goal. The secrets are a combination of several different techniques with which you are probably already familiar, and when you combine them in an organized manner, it makes weekday cooking a breeze. Learn the secrets of a busy cook »
Facebook Group
Did you know that Add Salt & Serve has a Facebook group? It's a great place to ask questions and share with others using the meal plans. Join us »
__________
Although the recipes and meal plans at Add Salt & Serve emphasize saving time and money, eating family meals at home has many hidden benefits. Family dinners strengthen family relationships and help teens stay substance-free. According to a 2010 study by The National Center on Addiction and Substance Abuse at Columbia University, three out of four teens say that dinner is when they talk to their parents about what is going on in their lives, and eight out of ten parents believe that they learn more about what is happening in their teens lives by having family dinners. The study showed that teens who report talking to their parents about their everyday lives at dinner are less likely to smoke, drink, or use marijuana than those don't. [Source: The Importance of Family Dinners VI; Columbia University]