It's 5:30 and you still have to pick up one child from after school activities, another child has to be at sports practice at 7pm, and you have to help another child with a project. Running through the drive thru sounds tempting, but you hate to spend the money. You'd feel better if you could put a home-cooked meal on the table, but you just don't know how you can do it. You need help—quick and easy recipes that are faster than the drive thru.
These simple, delicious, and time-saving recipes are the answer. Dinner—saved!
Be sure to also check out our 6 easy crockpot meals for busy nights!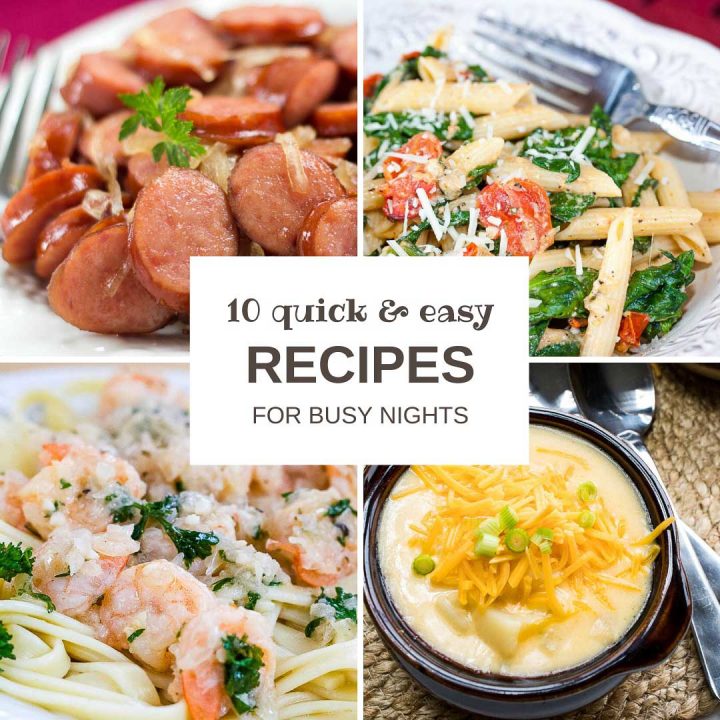 If you follow our tips for keeping your freezer stocked with sautéed onions, cooked chicken, and browned ground beef, you'll be able to put the 6 bonus recipes on the table in no time. With prep time already mostly done, there is little left to do to serve up a delicious home-cooked meal.
1. 30 Minute Hash Brown Potato Soup
2. Southwestern Hamburger Skillet
3. Tortellini Zucchini Soup
4. Skillet Kielbasa
5. Shrimp Scampi
6. Easy Tuna Casserole
7. Pasta Carbonara with Tomatoes & Spinach
8. Pasta with Parmesan and Lemon Sauce
9. Pasta with Homemade Pesto
10. Mexican Ravioli
Bonus: 6 Quick & Easy Recipes Using Cooked Ingredients from the Freezer
1. Toasted Cheeseburger Burritos
2. Chicken and Sausage Jambalaya
3. Stovetop Chicken
4. Easy Orecchiette Florentine
5. Poppy Seed Chicken Casserole
6. Quick & Easy Mexican Style Soup