Have you been looking for easy recipes but find that you still don't have the ingredients to make them? Try these simple recipe ideas to use up what you already have—you'll make the most of what you have without the stress of looking for ingredients that aren't available. Even if you are not comfortable creating your own recipes, you'll find these basic formulas easy to follow.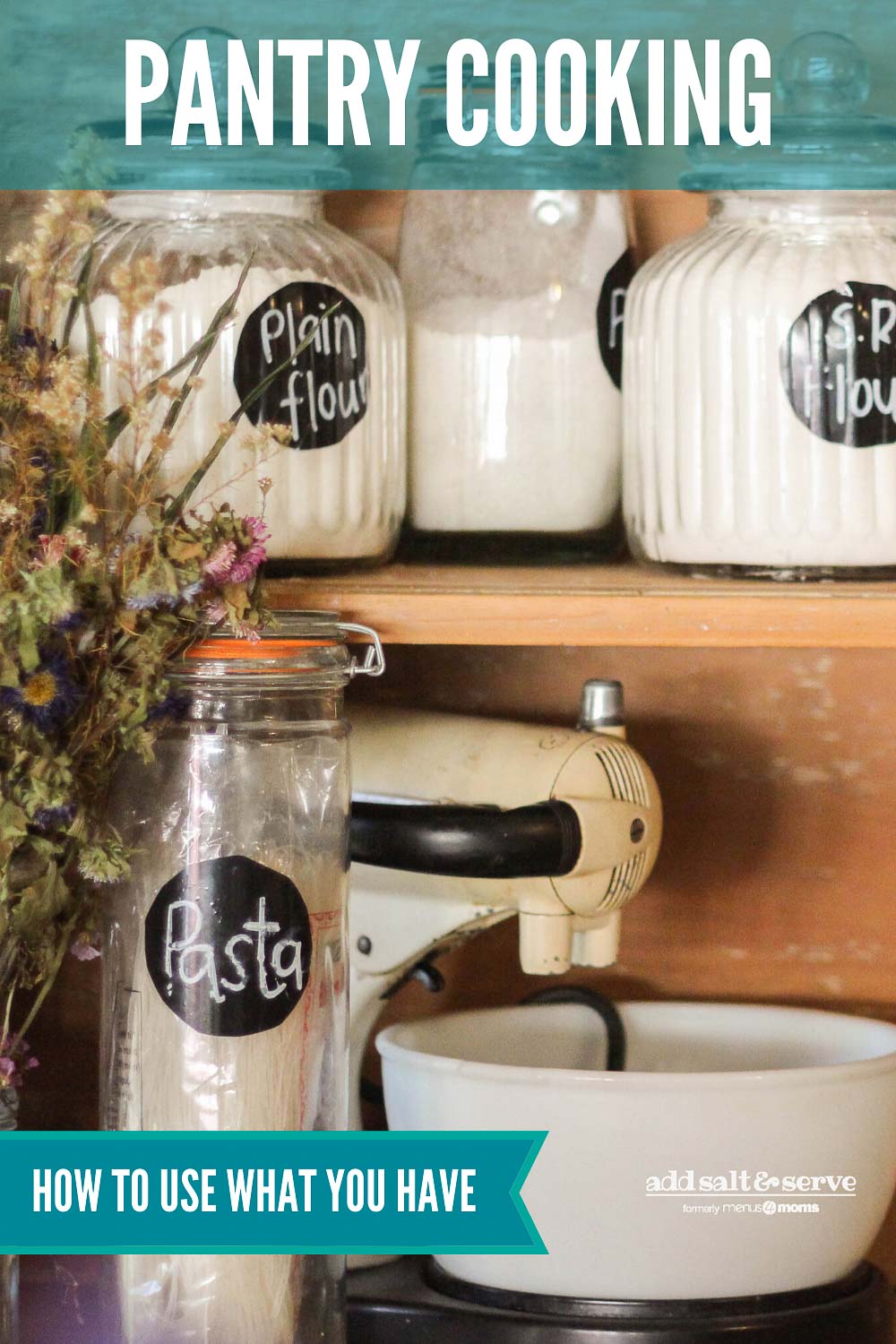 Jump to:
Download my cheatsheet printable with ideas for using what you have!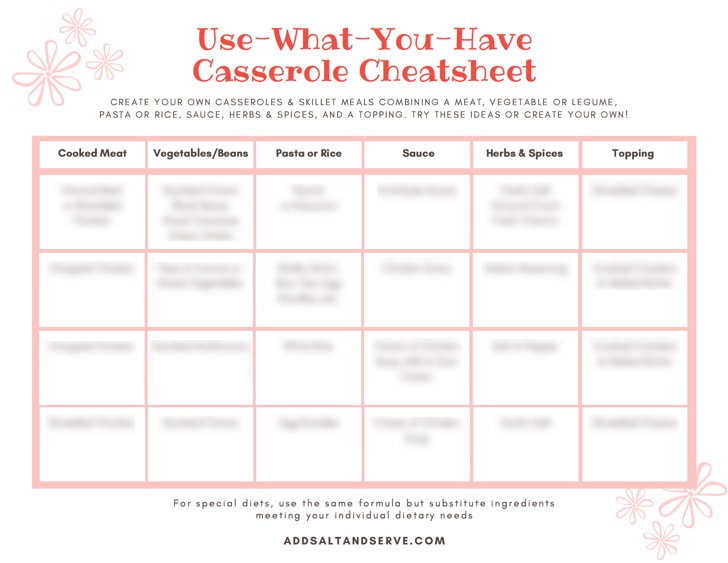 Eggs
Strata. Make an easy strata or soufflé by layering bread (it doesn't matter if it's stale) and sliced or shredded cheese in a baking pan. Mix 4 eggs, about 2-⅔ cup milk, and a little salt, pepper and dry mustard. Pour the egg mixture over the bread and cheese and bake at 350ºF for about 45 minutes (depending on the dimensions of your pan, it could be more or less - just make sure the egg is done all the way through).
Crustless Quiche. Beat 8 eggs with a cup of milk, a cup of shredded cheese, salt and pepper. Add a 10 oz pkg. frozen vegetables that has been cooked, drained, and chopped. Bake at 350°F for about 40-50 minutes or until a knife inserted in the center comes out clean.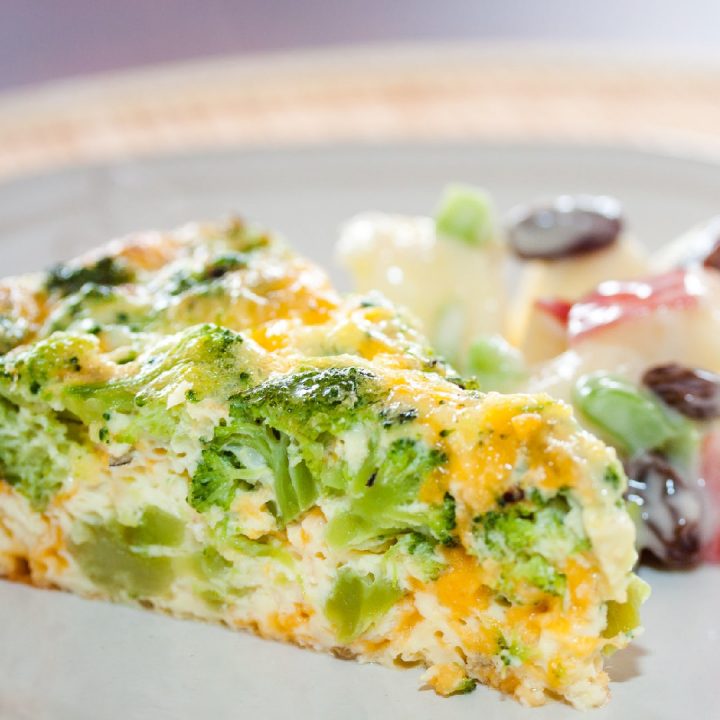 Crustless Vegetable Quiche
We've used broccoli and cheddar in this delicious and easy crustless quiche, but you can substitute different cheeses or vegetables to use what you have. Try it this way or with spinach and mozzarella cheese or mushrooms and Swiss.
Casseroles
It's easy to make a variety of casseroles by using different combinations of the following:
cooked meat
vegetables
cooked pasta
a sauce (pasta sauce, soup, gravy, etc. - can be canned/jarred or homemade)
herbs and spices
a topping (shredded cheese, bread crumbs and butter, French fried onions, etc.)
Vary the size and shape of the pasta, the vegetables added, and the type of sauce and topping to keep things interesting. Mix all together and bake at 350ºF until hot and bubbly.
Here are some examples:
Italian pasta bake. Combine cooked ground beef, cooked pasta, sautéd onions, and pasta sauce. Pour into a baking pan and sprinkle bread crumbs on top. Add pats of butter. Bake at 350ºF for about 25 minutes or until hot and bubbly but not too browned.
Mexican pasta bake. Mix cubed cooked chicken with cooked pasta, green chilies, tomatoes, sautéed onions, and a can of enchilada sauce. Pour into a baking pan. Top with shredded cheese and bake at 350ºF for 30 minutes.
Stovetop Meals
Make easy stovetop meals just like described above for casseroles, but heat on the stovetop instead of baking. Different combinations of cooked meat, vegetables, cooked pasta, a sauce (pasta sauce, soup, gravy, etc. - can be canned/jarred or homemade), herbs, and spices can create a multitude of different dishes.
A couple of examples:
Mediterranean stovetop meal. Combine cooked chicken, cooked pasta, and some Mediterranean vegetables (black olives, diced tomatoes, roasted red peppers, etc.). Add a splash of Balsamic vinegar and some oil and heat through. Serve topped with feta, mozzarella, or Parmesan cheese.
Mexican ravioli. Make a stovetop Mexican ravioli by combining cooked beef ravioli, a can of red enchilada sauce, a cup of salsa, a can of sliced black olives, and shredded cheese.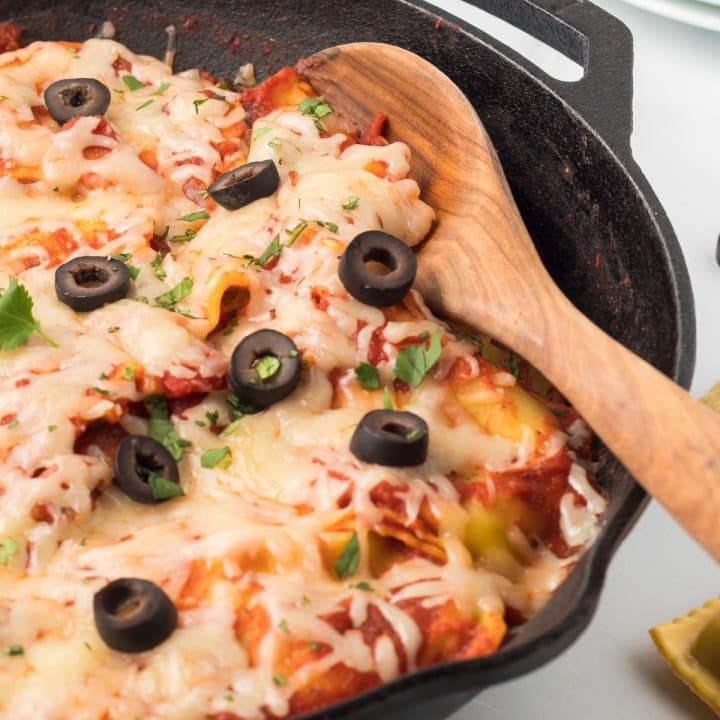 Mexican Ravioli
Mexican Ravioli is a quick stovetop meal that packs a southwestern flavor punch.
Soups
Soup is the easiest recipe ever! Soups are the absolute best way to use leftovers and miscellaneous frozen vegetables because they are forgiving, can use just about any ingredients, and can be tweaked as they cook until you are happy with the flavor.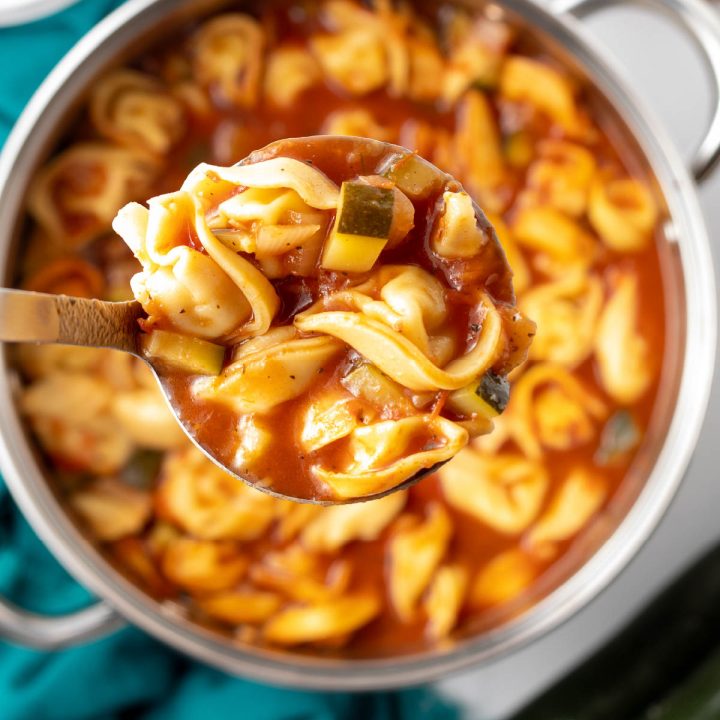 Tomato Zucchini Soup
Tomato Zucchini Soup is an easy 20 minute soup that is good to the last drop—so good that you might need to double the recipe! It freezes well, too.
A good idea to make use of leftovers that might be wasted is to add any leftover vegetables to a container in the freezer throughout the week. At the end of the week, use whatever meat you have in the refrigerator with your freezer vegetables and make a big pot of soup.
End of the week soup. Sauté onions or garlic in a large pot. Add broth (match the meat you are using or use vegetable broth), cooked meat, vegetables, herbs, and spices in a pot. Heat until boiling. Reduce heat and simmer until ready to eat. Cook pasta separately and serve pasta into each bowl with soup. Store leftover pasta & soup separately so the pasta will not absorb all the broth and become mushy.
Salads
If it's warm outside, chilled pasta or rice salads are a great way to serve whatever you have on hand. The same rules that apply to choosing ingredients for casseroles apply here, but use salad dressing instead of sauce.
Think in terms of cuisine categories and include ingredients that go well with that cuisine just like you would with a casserole.
Dressing choices:
Italian. Use an Italian or balsamic dressing
Mexican. Use French or ranch dressing
Mediterranean. Use Greek, tzatziki, or blue cheese dressing
Asian. Use Sesame or ginger dressing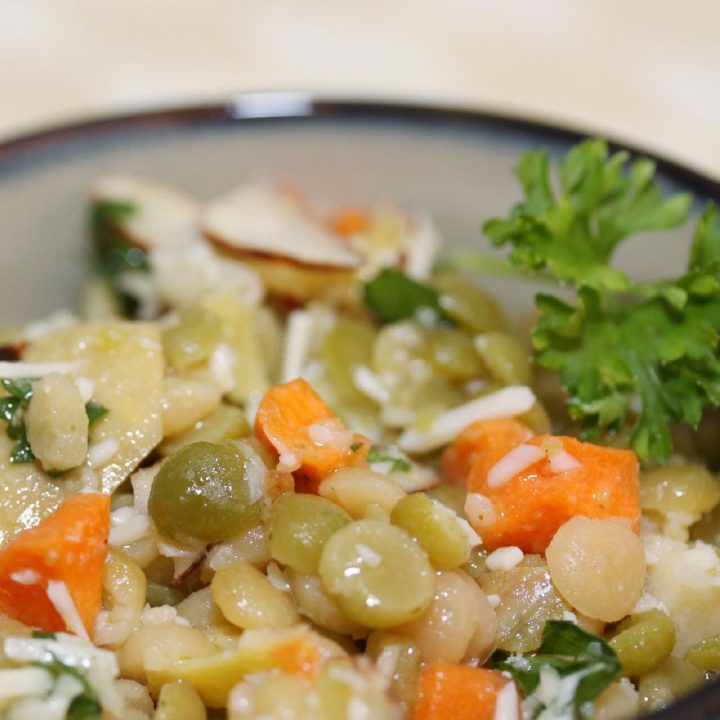 Mediterranean Salad
The citrus and garlic dressing lends the perfect flavor to lentil and carrots with artichokes. Serve it as a side, or add cooked chicken and make it a meal. 
Help with Herbs & Spices
When deciding which combinations of ingredients, herbs, and spices to use, think about the combinations that are in the recipes that your family likes the most and go with similar choices.
You may wish to invest in the digital version of The Flavor Bible (affiliate link)—it's incredibly helpful if you have an ingredient that you want to use and aren't sure what to use with it, particularly with which herbs and spices to use.
Download our cheatsheet printable with ideas for using what you have!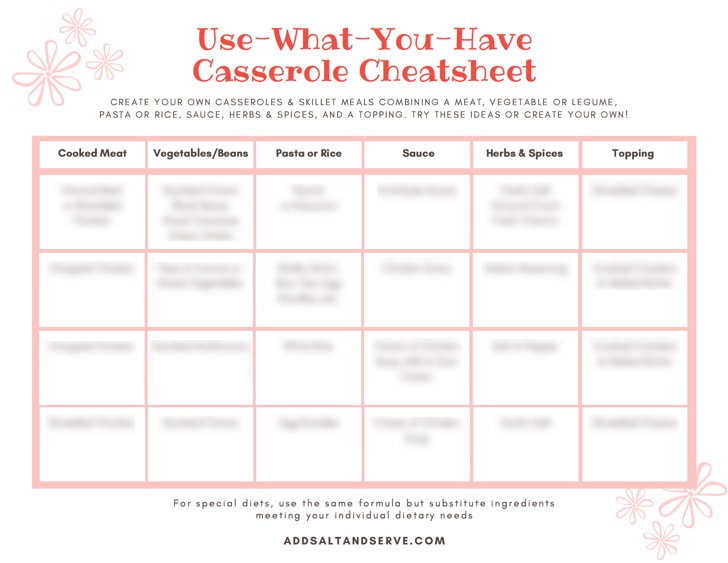 Have you come up with any great recipes using this method of cooking? I'd love to hear what you made in the comments below.
Versatile Recipes To Use What's On Hand