Slow cookers are the perfect appliance for accomplishing low-stress dinners. The ability to get dinner started early in the day and ignore it until it's ready to serve is an easy way to avoid the stress of piranha hour*.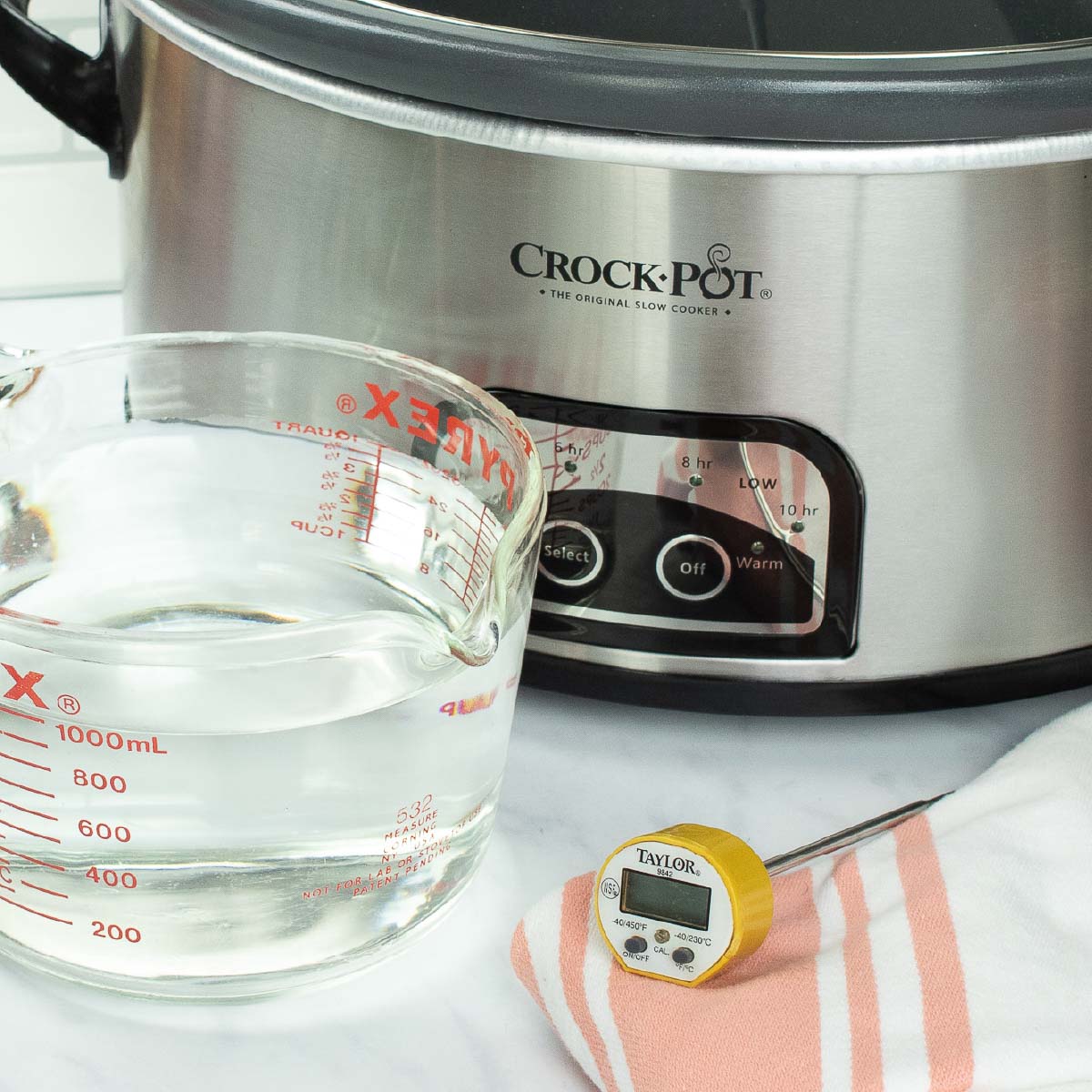 As a bonus, slow cookers are energy-efficient (they use about the equivalent of 1-½ 100 watt light bulbs).
*piranha hour - that period around 4:30 or 5 pm when everyone wants your attention while you are trying to finish up work for the day, answer the phone, and plan and cook dinner
Jump to:
Slow Cooker Performance
The best feature of slow cooking is the balance between cooking at a safe temperature and yet keeping food at a temperature that does not require attention. It's important to be sure your slow cooker's performance stays between that range.
A slow cooker should be able to bring its contents to 140ºF in a maximum of two hours to avoid food safety issues.
How to Test Your Slow Cooker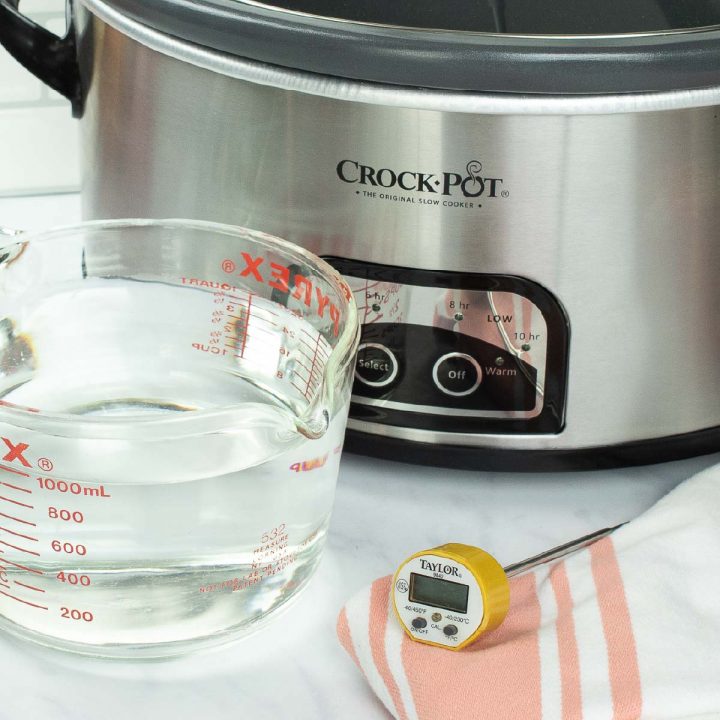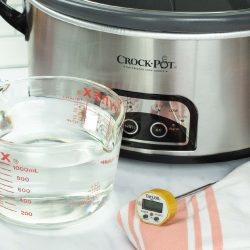 How to Test Your Slow Cooker
To protect from foodborne illnesses, it's important to know that it is cooking correctly.  If you have an older model crockpot or have concerns about whether a newer model is cooking properly, use this easy method to test its performance.
Instructions
Fill the pot half-full with water and cover with the lid.

Cook on low for 8 hours.

Measure the water temperature. It's important to take the temperature immediately after uncovering the water so that the reading is accurate (the water temperature can drop dramatically once it's uncovered). Some models have a hole in the lid for a thermometer that can be used to take the temperature without removing the lid.

The water temperature should be between 185ºF and 200ºF.
Notes
Be sure to test on both low and high settings.
If either temperature reading is below 185º, it is probably time to update to a newer model.
Tips for Cooking with Slow Cookers
I love slow cookers, but their varying sizes and models make standardizing slow cooker recipes difficult. With models ranging from 1-quart capacity to 8-quart capacity, the cooking time for each model for a specific recipe needs to be adjusted.
Cooking time
To adapt a recipe's cooking time, it is important to know the capacity of your particular model. A recipe written for and tested with a 6-quart model would burn if cooked for the recommended amount of time in a 2-quart model.
The instruction booklet that came with your slow cooker is your friend. It should contain a chart of cooking times created specifically for your model for various meals. When trying a new recipe, use the chart in the instruction booklet to adjust the recipe cooking time based on similar meals in the chart.
Find your instruction manual: If you don't have the instruction manual that came with your appliance, you can probably find it online.
Liquid amount
Some slow cookers lose more liquid during cooking time than others. The tighter your lid fits, the less liquid is lost. If you notice your slow cooker tends to lose liquid, you may want to start with extra, or check it after a few hours to see if it needs additional liquid.
Heat Setting
Most slow cookers come with two to three settings: Low, High, and sometimes Keep Warm.
Generally, the settings fall into these temperature ranges (the temperatures are based on wattage rather than actual cooking temperature since the cooking temperature is affected by capacity, content volume, and other factors):
Low - 170ºF to 200ºF
High - 270ºF to 300ºF
Keep Warm - 145ºF to 165ºF
Note that the Keep Warm setting is not a safe cooking temperature and should be used only to keep food warm after cooking.
Keep in mind that any power interruption will have an impact on cooking time and food safety. If the power supply is interrupted while you are away from home, the food in the slow cooker should be discarded, even if it appears done. According to the USDA, if you are monitoring the slow cooker and the power goes out after the food is fully cooked, it is safe to eat for about two hours (leave the lid on to retain heat).
Using a Slow Cooker vs. Slow Cooking in an Instant Pot
With the huge popularity of Instant Pots and other electric slow cookers, you may be tempted to ditch your slow cooker for an "all-in-one" electric pressure cooker.
Before taking your slow cooker to the thrift store, you should know that the slow cooker mode in an Instant Pot functions differently than a stand-alone slow cooker, and results can vary drastically. As can be seen in this diagram from Hamilton Beach, slow cookers cook from the bottom and the sides, resulting in uniform heating.
The Instant Pot heats from the bottom only and at least 1 to 1-½ cups of liquid should be used when slow-cooking (the heated liquid is what heats the rest of the contents). For recipes with less liquid or thick liquids, this can be a problem.
Mike at Dad Cooks Dinner did some experimenting with the IP's slow cooker function and gives his feedback in this post (the comments are helpful as well), and Kristen at A Mindful Mom offers some tips for using the Instant Pot as a slow cooker. The consensus seems to be that IPs are better at pressure cooking than slow cooking, but with accommodations, the slow cooking function can be useful.
Favorite Slow Cooker Recipes
These are some of our family favorite slow cooker recipes - give them a try!
Pin This Post