I'll email you a link to a meal plan including side dishes and shopping list every week!
My free weekly meal plans feature recipes that are easy, delicious, and perfect for families.
Every meal plan includes adjustable recipes and a shopping list, so you can serve a family of two or twenty.

Each weekly menu is an editable collection of recipes so you can scale or remove recipes before creating your shopping list. You'll know exactly what you need each week.
Print a single recipe or the plan for the whole week, or just follow along on your phone or tablet.
Sign up for the free weekly meal plans now, or scroll down for more information.
Jump to:
📓 Why use a meal plan?
Using a menu plan...
saves money on groceries
increases the frequency of eating at home
saves time
means less stress about what to serve
makes family dinners more likely, strengthening family relationships 1
(I couldn't resist the composition notebook emoji! My grandmother used an old composition notebook—now in my possession—to create her meal plans in the '60s, so composition books represent meal planning to me.)


🥘 Why use Add Salt & Serve weekly meal plans?
My uniquely crafted FREE meal plans lighten the load.
There are lots of meal planning services available, so why use Add Salt & Serve? My easy weekly family meal plans:
do the planning for you
are scalable for all family sizes
include a shopping list
feature delicious and easy recipes
decrease prep time & work
increase grocery savings
build a freezer stockpile of prepared basics
community and free support is available in the Add Salt & Serve Facebook group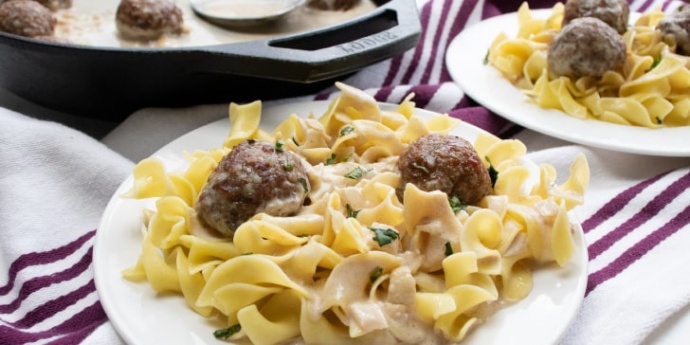 You can use our menus as is or as inspiration for weekly meal plan ideas of your own.


You won't find elaborate gourmet meals in our menus—our recipes are easy, affordable, delicious, and perfect for all ages.
🗓️ Most recent weekly meal plans
🔎 Still want to know more?
Based on the Secrets of a Busy Cook, our weekly meal plans are more than just a list of recipes. The meal plans:
easily fill the freezer with both cooked ingredients and full recipes
avoid wasting food by planning leftovers in future meals
take advantage of quick and easy recipes
make efficient use of your time in the kitchen to avoiding repeating the same tasks over and over
take advantage of tools & techniques to make life easier
All of the recipes in the meal plans are adjustable for family size. Whether you are looking for meal plans for two or are cooking for a large family, you will find them helpful. Each meal plan has a main dish and recommended sides for five nights and comes with a shopping list. We do everything except the grocery shopping and cooking for you!
📩 How to start the meal plans
Make the most our meal plans:
Feedback is welcome. Enjoy!
❓ Still have questions?
You can leave a comment below or join our Facebook group, and I'll do my best to answer your questions.
📌 Pin this post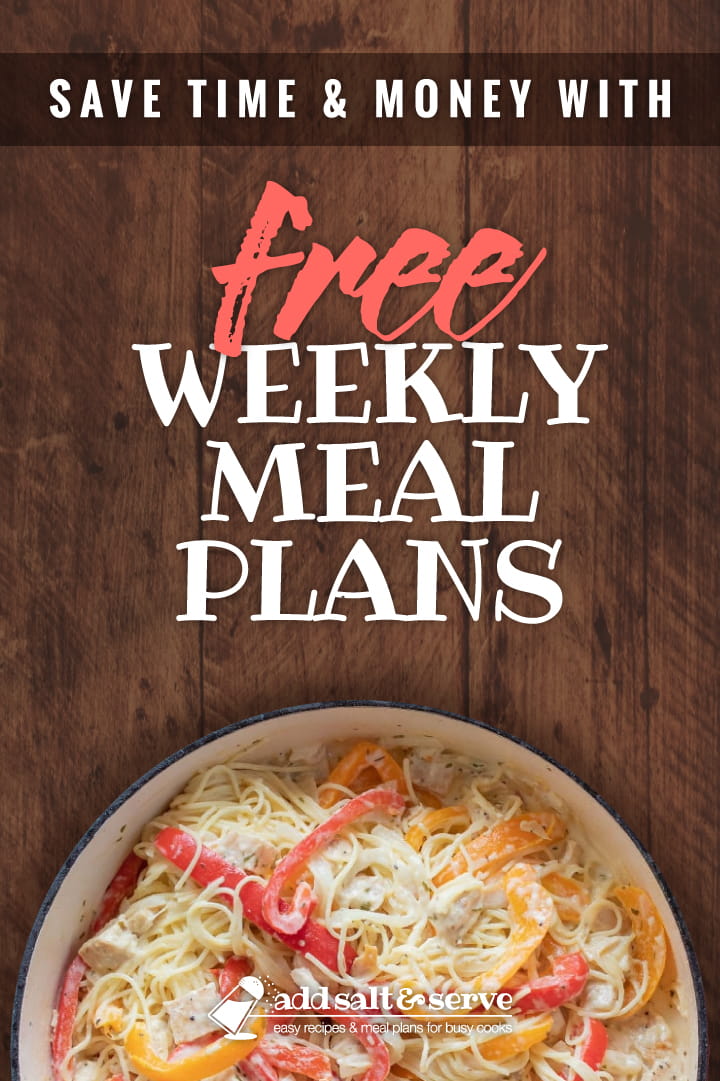 ____________________
1
An aside: an unexpected benefit of eating together as a family
Did you know that frequent family dinners are directly correlated with strong family relationships? Not only that, but the likelihood of teens turning to alcohol, tobacco, and drugs decreases the more frequently family dinners occur.
Years of studies by The National Center on Addiction and Substance Abuse at Columbia University have consistently shown the benefit of family dinners. "Teens who have frequent family dinners are more likely to say their parents know a lot about what's really going on in their lives, and such parental knowledge is associated with decreased incidence of teen marijuana, alcohol and tobacco use. Family dinners are the perfect opportunity when teens can talk to their parents and parents can listen and learn."
The "magic that happens at family dinners isn't the food on the table, but the conversations and family engagement around the table." Stress-free family dinners with engaging conversation are more likely to happen with a plan.