This post is part 3 of a series about the convenience and savings of keeping a well-stocked kitchen.
Part 1: The Well-Stocked Kitchen
Part 2: Non-Perishable Items
Part 3: Refrigerator Items
Part 4: Freezer Items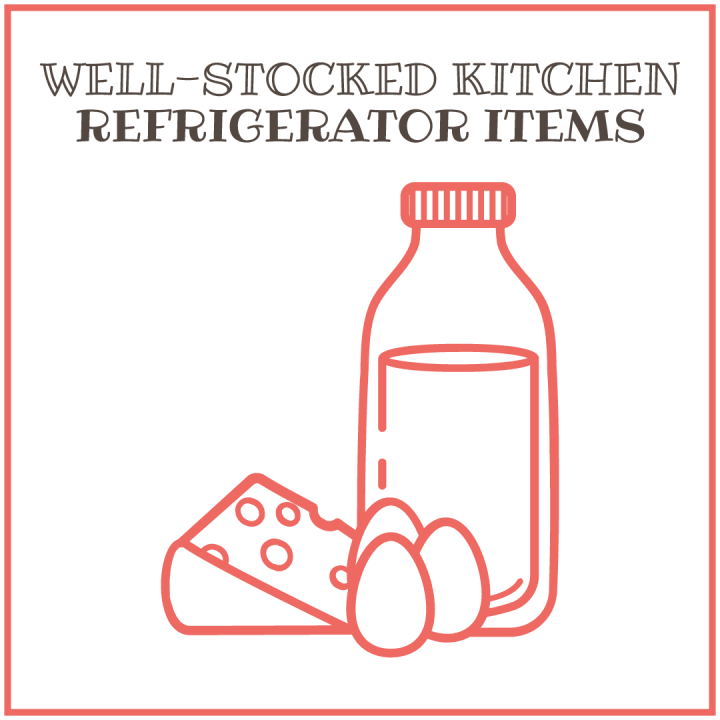 Refrigerator & Produce
Many of the items listed will vary based on your preference. Some of them will be used regularly in menus (cheese, for example), but some are just items to keep on hand for your own use, such as condiments like salad dressings and relish. Stock what you use regularly and ignore the rest.
Cheese
Sliced Cheese in Several Varieties
Feta Cheese
Shredded Cheese (Cheddar, Mozzarella, Parmesan, Mexican Blend; can also be frozen)
Velveeta Cheese (store brand unless it is on sale)
Condiments
Barbecue Sauce
Pickles
Fruit Preserves
Hot Sauce
Lemon Juice
Lime Juice
Mayonnaise
Salad Dressing
Salad Peppers or Relish
Soy Sauce/Tamari
Yellow mustard
Dairy
Butter
Buttermilk
Cream Cheese
Eggs
Milk
Plain Yogurt
Sour Cream
Meat
Deli Meat (various kinds for sandwiches)
Miscellaneous
Crescent Roll Dough (for last minute meals with a crust)
Tortillas
Yeast
Produce
Carrots
Garlic Cloves
Onions
Celery
Bell Peppers
Jalapenos
Cilantro
Lettuce Leaves
Mushrooms
Salad Mix
Part 1: The Well-Stocked Pantry
Part 2: Pantry Items
Part 3: Refrigerator Items
Part 4: Freezer Items