Living in the direct path of hurricanes, I have become adept at preparing for short-term self-sufficiency.
The same type of preparation needed for the aftermath of a hurricane can be helpful when you need to cook from your pantry for other reasons—living in a food desert, making extreme grocery budget cuts, and more. The 7 practical tips below will help you continue providing a variety of flavorful meals that do not depend on frequent trips to the store for perishables.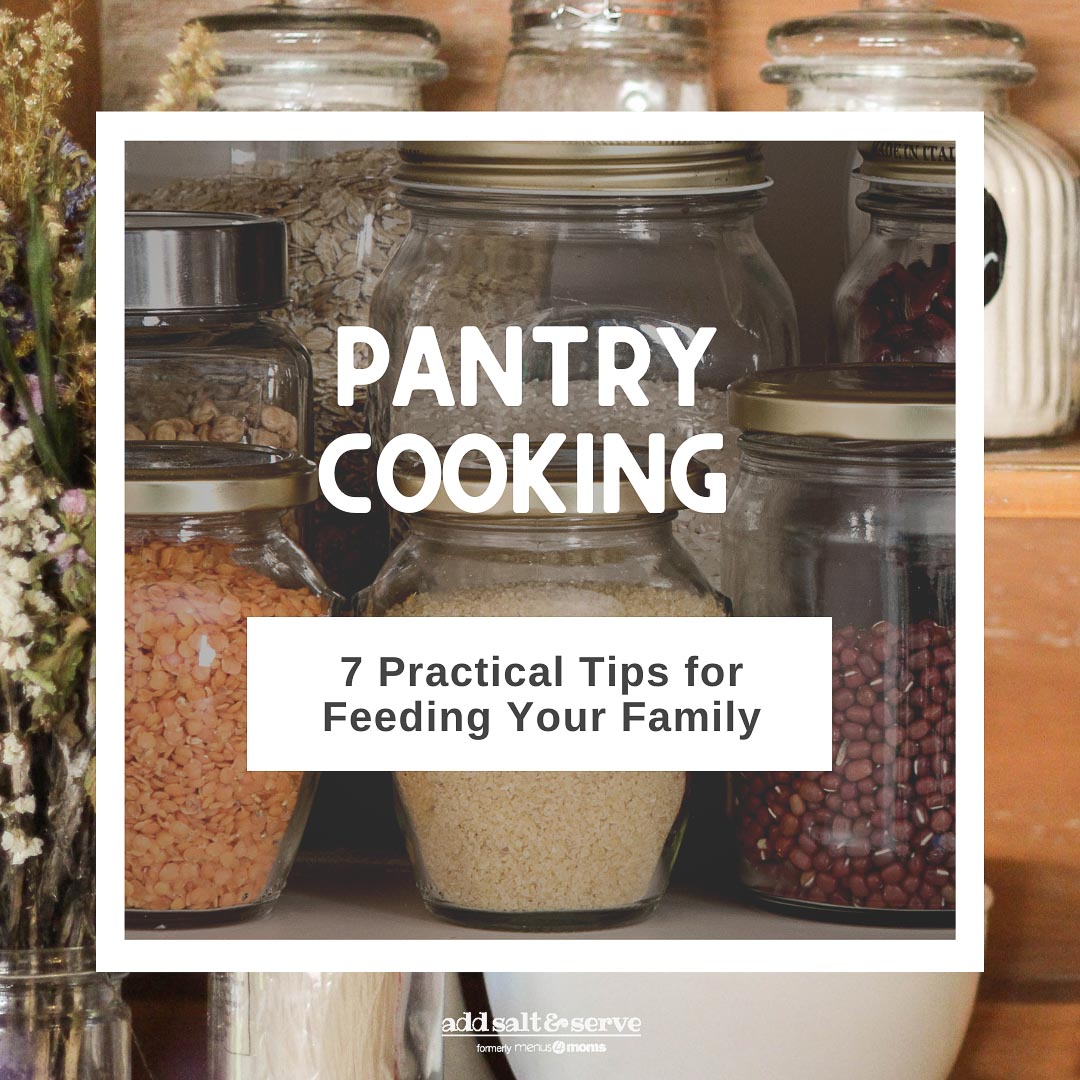 Preparing for cooking from the pantry is actually easier than preparing for a natural disaster since the loss of power and water are not at play. Because of this, freezer items can be considered non-perishable.
If you are concerned about how to feed your family with limited supplies, implementing the following 7 items should give you peace of mind. They are simple but effective ways to feed a family during a time when you lack fresh ingredients.
Jump to:
🛒 1. Get the best price by buying in bulk
When items are deeply discounted, purchase them in bulk for home storage. Separating large packs into smaller quantities is helpful for both storage and cooking.
🥫 2. Stock pantry items
Use non-perishables in place of perishables whenever possible. These are some of the canned/boxed goods I stock (but of course you should stock what you use). Supplies of these items may vary over time, but as they are available they are good items to purchase.
tomatoes: sauces, crushed, diced, paste
beans: kidney, cannellini, chili, red, black
broth: beef, chicken, and vegetable (I stock these in large quantities because the extra flavor will help make up for using less meat if necessary; also, soups are easy to adjust to what you have on hand)
vegetables & fruits: green beans, peas, mixed vegetables, canned fruits
pasta & rice: stock a variety of sizes and shapes of pasta and multiple kinds of rice
mixes & packets: from flavored oatmeal to taco seasoning, have plenty of mixes that you use often, whether homemade or purchased
dried beans: any kind your family will eat; filling ingredient for soups, casseroles, side dishes, and dips
snacks: nuts, protein bars, popcorn, and other extended shelf-life snacks
canned meat: dried beef, canned chicken, canned beef, canned tuna
cooking oils
salt & pepper
For short-term needs, consider storing pantry items outside of your pantry for extra space. Under beds and in closets are good places for cases of canned goods. Plastic storage boxes that stack can hold pantry items as well.
❄️ 3. Evaluate and optimize your freezer space
Freezer space varies from a small top freezer in a refrigerator/freezer unit to a large chest deep freeze. No matter where your freezer lies on the spectrum, you can optimize the space you have. I recommend avoiding buying prepared products because they are expensive and take up more freezer space than the necessary frozen ingredients to make the same item from scratch.
Take everything out of the freezer.
Trash or cook items that are past their prime.
Cook as much meat as possible and refreeze in smaller containers. Cooked meat takes up about ⅓ the space of its raw counterpart and is more convenient to use. In many cases, chicken and ground beef are used in dishes where they need to be cooked first, so do that now.
Repackage what is left in ways that will take up the smallest amount of space.
Put the reorganized foods back into the freezer in a space-saving manner. For top freezers, adding a shelf can make it easier to pack it full while keeping everything accessible. For free-standing freezers, baskets can do the same.
Make sure to save space for items you will be adding in step 4 below.
🧀 4. Freeze perishables when possible
Many items that we think of as fresh and perishable actually freeze quite well. I regularly freeze the following items to avoid spoilage over longer periods of time:
cheese (shredded cheese retains its texture best; blocks of cheese will crumble rather than slice when thawed)
milk (homogenized milk freezes fine; cream curdles when frozen)
butter
deli meats
Cooking ingredients and freezing them is a good way to keep perishables for an extended period. Consider chopping, sautéing, and freezing the following for use in recipes:
onions
bell peppers (green & colored)
celery
zucchini
🥬 5. Extend the life of perishables
Preparing produce for the refrigerator can extend its life from days to weeks. Whole produce in its original form always lasts longer than prepared chopped or sliced versions, so avoid prepackaged fresh produce.
Follow these preparation tips for longer-lasting produce & perishables:
living herbs: buying herbs in their living form instead of cut keeps them producing over and over; repot them, place them in a south-facing window, keep the soil moist, and trim them to keep them producing
leafy herbs: wash them and lay them flat on damp paper towels, then roll them in the paper towels and store in an open baggie in the crisper
leafy greens: wash and dry leafy greens, pack very loosely in a container, and store in the coolest part of the refrigerator (but not where items may freeze)
celery: wash, wrap in damp paper towels, then wrap in foil (plastic traps the gasses that celery emits)
dairy products: milk that has been ultra-pasteurized can last for weeks longer than pasteurized milk, so look for ultra-pasteurized milk during periods when you will be homebound (most organic milk is ultra-pasteurized)
root vegetables: heat and light accelerate the aging process of root vegetables, so store them in a cool, dark place, with potatoes and onions stored separately
🥛 6. Substitute non-perishables for perishables
Although drinking reconstituted dry milk may get complaints, using it in recipes is likely to go unnoticed. You can also extend fresh milk by mixing it with dry milk.
Some items that are normally considered refrigerator items can be bought in shelf-stable forms:
milk (dry or canned)
cream (boxed)
butter (in the form of ghee; higher priced)
dehydrated mushrooms
Consider freeze-dried foods for long-lasting shelf-life. Freeze-dried foods can be eaten as is or be rehydrated for use in recipes. Freeze-dried and dehydrated are two different processes of drying, and most freeze-dried foods rehydrate to a better texture than dehydrated foods.
Target stocks a nice selection of small packets of freeze-dried fruits, and Amazon carries large freeze-dried variety pack pails fruit (affiliate link). For freeze-dried vegetables & meats, you'll need to order online.
You can order large cans of freeze-dried foods through a company like Thrive Life (refer a friend link) that is dedicated to long-term food storage or from Amazon. You can even order freeze-dried cheese, butter, eggs, and meats.
Keep in mind that during times of high demand such as a pandemic, items may be out of stock. Don't wait until you need the products to order them.
🧂 7. Add extra flavor when needed
When you have to omit ingredients that typically pack a flavor punch, it's helpful to have other ways to add flavor to a dish. Try these:
bouillon or broth/stock base: add to soups, stews, and sauces
liquid smoke: use in very small amounts in beans and in sauces for meat-based casseroles and stovetop dishes
sesame oil: use in very small amounts in Asian dishes
tomato paste: add to tomato sauces when you need extra flavor
condiments: serving dishes with condiments such as hot sauce, horseradish, brown mustard, soy sauce, taco sauce, and more can add flavor lost when other ingredients are omitted
🌾 Considerations for specific diets
If you are accommodating special diets in your home, you will need to take extra steps to make sure your meals are suitable. You may need to research the shelf-life of items that are normally used in the short-term, storing special flours and other ingredients in ways that keep them from spoiling.
Using alternative flours with a longer shelf-life or purchasing a flour mill (affiliate link) to make your own flour from rice or beans may be a good investment in the long term.
Consider basic, shelf-stable ingredients that are safe for the diet that can be used in a variety of dishes. Keep those on hand.
If cooking completely from scratch is necessary to avoid specific ingredients, you may find that an order of freeze-dried ingredients (as noted above under Substitute non-perishables for perishables) is the most practical option.
📆 Long-term planning
The above tips assume a situation where staples are generally available and power supplies are not interrupted. Should you be concerned about a worst-case scenario with longer-term quarantine, a situation where supplies are unavailable for an extended period of time, or a situation where power supplies are interrupted, here are some items to consider investing in:
bulk food storage, including whole grains for grinding
flour mill
water storage system
emergency well tube (for water during a power outage for people on wells)
🔑 Summary: Keep calm, plan, and implement
Whether pantry cooking is a way of life or necessary due to a shorter-term situation, analyzing the situation, planning ahead, and implementing as needed will help bring a sense of control and preparedness. Hope for the best, plan for the worst, and make time for the things that keep you centered and calm.
Be sure to check out Pantry Basics: Easy Recipes Using What You Have on Hand for meal construction strategies using just items in your pantry.