Fresh grilled burgers are a sure sign of good weather and daylight savings time! With the sun setting later, there is time to get outside and enjoy the evening while avoiding heating up the kitchen.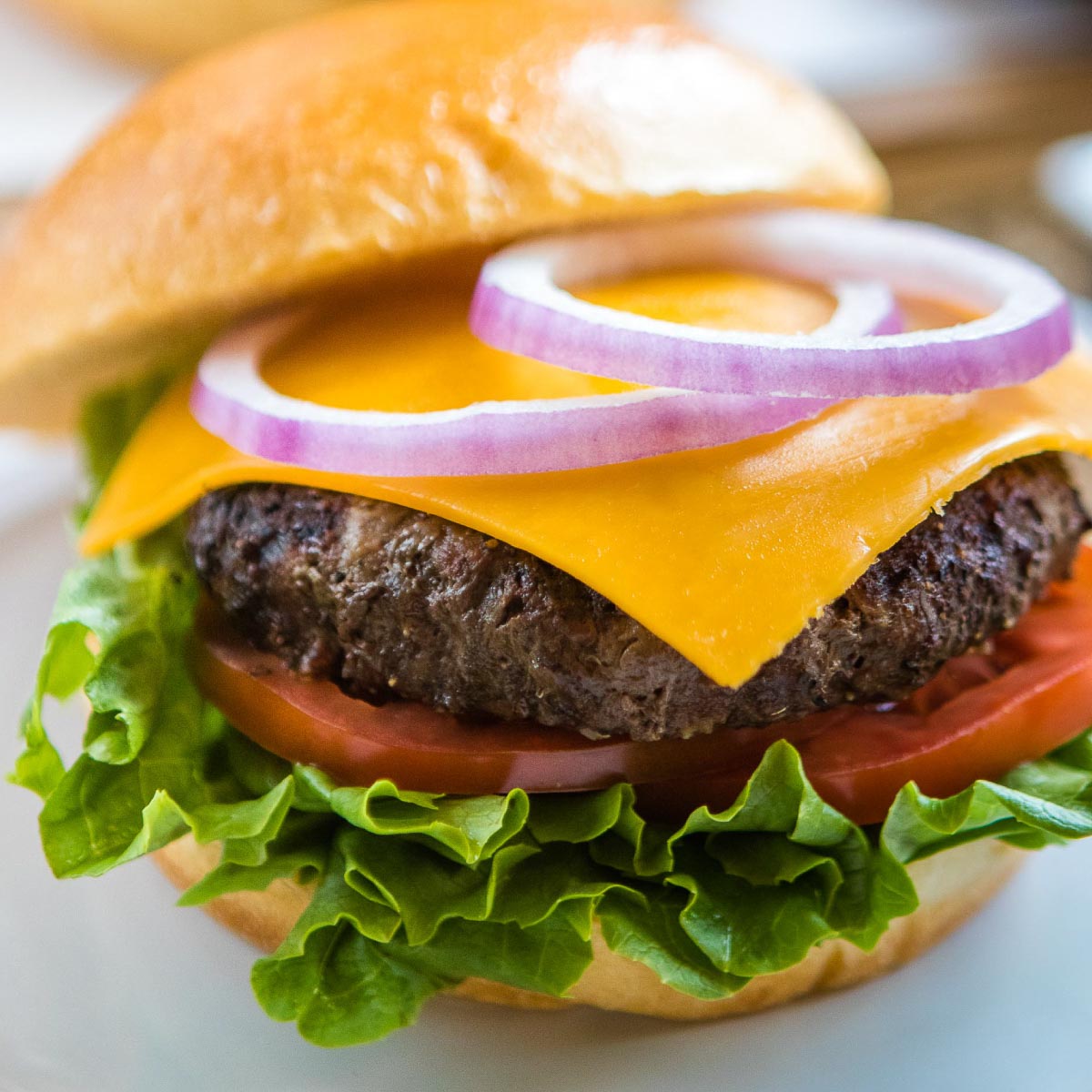 No grill? No problem. Burgers cooked on the stovetop are also delicious! I like to use a cast iron skillet for cooking meat; if you use an 80/20 mix of beef, you shouldn't need to add any oil to the pan.
Cooked hamburger patties freeze well, so I usually cook extra and freeze them individually on a cookie sheet. Once frozen, I put them all together in a freezer container and can pull them out as I need them in any quantity. They won't taste as tender and juicy as they will straight off the grill, but on rainy day when you don't want to grill they sure are easy.
Tips for great hamburgers:
Although low-fat ground beef may be preferable for some recipes, for the juiciest burgers choose ground beef with at least 20% fat content.
Be careful not to manipulate the ground beef any more than you have to, since compacted ground beef will not be as tender. Handle as little as possible and don't compact the meat when forming the patties.
Season the patties just before cooking. Adding salt when you make the patties, whether alone or in seasonings, draws out the moisture and can result in dry burgers.
Resist the urge to press all the delicious juices out of the patties while cooking. We've all seen the mouthwatering images of juices running out of a patty as it is pressed with a spatula, but that is exactly what you don't want. Place the patties over heat and leave them alone until it is time to turn them.
Experiment with various cheeses and buns to change things up, or swap out the usual for these topping combinations:
a. Sautéed mushrooms and onions with Swiss cheese
b. Pico de gallo, sliced avocado, and Pepper Jack cheese
c. Marinara sauce, fresh basil, and mozzarella cheese
📖 Recipe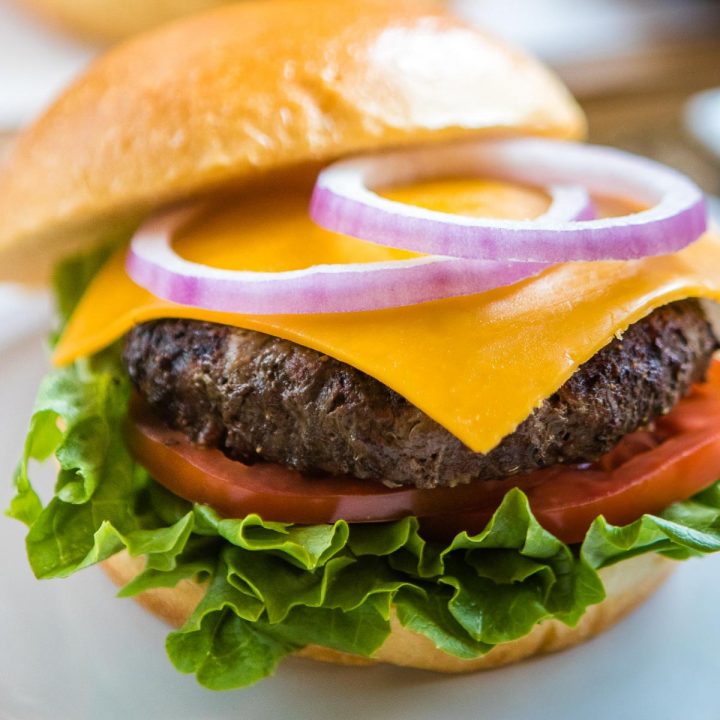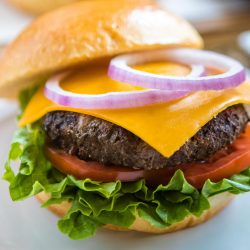 Grilled Hamburgers
Our tips for grilled burgers will result in juicy, delicious hamburgers that leave your family begging for more.
Add to Collection
Go to Collections
Ingredients
2

lbs

ground beef

Montreal steak seasoning

8

hamburger buns

lettuce

cheddar cheese slices

tomato

red onion

condiments of your choice
Instructions
Preheat clean grill to 350°.

Gently shape ground beef into 8 patties, handling meat as little as possible.

Lightly oil grill grate. Sprinkle burgers liberally with steak seasoning.

Grill burgers over medium heat until desired doneness is reached. Serve on buns with condiments of your choice.
Notes
Nutrition calculations use 2 tablespoon Montreal seasoning.
Although low-fat ground beef may be preferable for some recipes, for the juiciest burgers choose ground beef with at least 20% fat content.
Be careful not to manipulate the ground beef any more than you have to, since compacted ground beef will not be as tender. Handle as little as possible and don't compact the meat when forming the patties.
Season the patties just before cooking. Adding salt when you make the patties, whether alone or in seasonings, draws out the moisture and can result in dry burgers.
Resist the urge to press all the delicious juices out of the patties while cooking. We've all seen the mouthwatering images of juices running out of a patty as it is pressed with a spatula, but that is exactly what you don't want. Place the patties over heat and leave them alone until it is time to turn them.
Experiment with various cheeses and buns to change things up, or swap out the usual for these topping combinations:
a. Sautéed mushrooms and onions with Swiss cheese
b. Pico de gallo, sliced avocado, and Pepper Jack cheese
c. Marinara sauce, fresh basil, and mozzarella cheese
Nutrition per serving
Calories:
425
cal
Carbohydrates:
22
g
Protein:
25
g
Fat:
26
g
Sodium:
313
mg
Fiber:
1
g
Sugar:
3
g